WBCHSE Board Class 11th KARMA by Khushwant Singh || Broad Notes || Broad Questions || Textual Question Answers || Short Questions & Answers || Broad type Questions || Exam Oriented Questions & Answers || 2023 English Suggestive Notes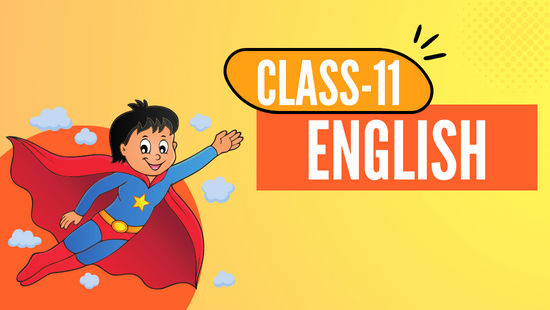 WBCHSE Board Class 11th KARMA by Khushwant Singh || Broad Notes || Broad Questions || Textual Question Answers || Short Questions & Answers || Broad type Questions || Exam Oriented Questions & Answers || 2023 English Suggestive Notes
SUBRATA SIR
Language : English
LRNR provides this material totally free
WBCHSE Board Class 11th KARMA by Khushwant Singh || Broad Notes || Broad Questions || Textual Question Answers || Short Questions & Answers || Broad type Questions || Exam Oriented Questions & Answers || 2023 English Suggestive Notes
KARMA BROAD QUESTION
'He was dismayed'- Who is referred to as 'he' ? When and why was he dismayed ?
Here 'he' is Khushwant Singh's short story 'Karma' refers to Sir Mohan Lal.
When Sir Mohan Lal entered into his first class compartment, he was dismayed to discover his train compartment empty.
Sir Mohan Lal was fond of conversation with English people. He liked to talk on almost any subject like a cultured Englishman. He even felt proud of his English accent. He was expecting an impressive conversation with some fellow English travellers in his compartment. But when he found the train compartment was empty, he was disappointed.
What does the word 'Karma' mean ? Is the word an appropriate title of the story ? Analyse briefly.
'Karma' is a Sanskrit word meaning 'work' or 'deed'. But the hidden sense of the word is that one would receive reward or punishment from destiny according to one's own activity in one's lifetime. Good jobs have reward, while bad jobs have punishment.
The story 'Karma' narrates the unexpected situation (predicament) of Sir Mohan Lal who loved everything British and hated everything Indian. He admired British cultures and manners to such an extent that he even hated his Indian wife who can neither communicate in English nor acquire British manners. Therefore, at the end of the story Sir Mohan Lal was humiliated ( man handled) by two British who he considered his fellow soldiers.
While on the other hand his wife Lachmi made a peaceful journey in his interclass zenana compartment. Therefore at the end of the story Mohan Lal got punishment for his fake pride in British culture and manners. While Lachmi enjoys a peaceful journey. Therefore, the title is appropriate and nothing could have been better.
What reason was cited by Lachmi for not travelling in the same compartment with his husband ?
Lachmi did not travel in the same compartment with her husband because she was a native woman who did not understand English and did not know their ways. As a result, she thought that she would be an embarrassment for her husband who was a vizier and a barrister and who met Englishmen and officers in the train. But the real reason seemed to be Sir Mohan's behaviour towards her wife . He did not want to travel with his wife and was ashamed of her. The husband-wife love affection is missing between them. Lachmi was helpless and Sir Mohan considered her a liability while travelling. Lachmi had nothing to do but to accept her fate while faking that everything was okay.
Sketch the character of Sir MohanLal.
In the short story "Karma', the author Khushwant Singh has elaborately sketched the character of Sir Mohan Lal. He was an anglicized Indian; he took pride in everything British. And hated that anything in Indian. He was eminently well bred, well mannered and saw himself as an Englishman. His treatment of Indians was so cruel that he was ashamed to travel even with his wife. And did not like his in-laws. To him Indians were dirty, inefficient. They showed their excitement, bustle and hurry in every step in their life but he never made haste and his life was regulated and orderly. He was not loud and aggressive like most Indians. He tooks his education at Oxford, could speak English fluently and used to read a British newspaper of The Times. Thus he blindly imitated and practised European culture and tradition.
Give a brief description of the appearance of Lady Lal.
OR,
Sketch the character of Lachmi ?
In Khushwant Singh's short story 'Karma' Lachmi or Lady Lal is portrayed as an ordinary housewife. She is married to a barrister, sir Mohan. But she lives a simple life. She is aged around forty five. She is short and fatty in appearance. She wears a dirty white sari with a red border. She is fond of jewelleries. She wears bangles and a diamond nose-ring. She eats chapatis with mango pickle. She is very fond of chewing betel leaves. She is not educated like her husband. Even though she can't understand English. She makes her journey in the zenana-class but her barrister husband makes his journey in the first class. She is very simple-hearted and also has no vanity. She embraces even a railway coolie as her brother. She has no identity crisis like her husband. She is a typical housewife, happy with her Indian identity.
Thank you for visiting LRNR.in.
You can solve different MCQs mock sets, can get videos and notes on different subjects. Download the app 'LRNR' from Google Play Store.